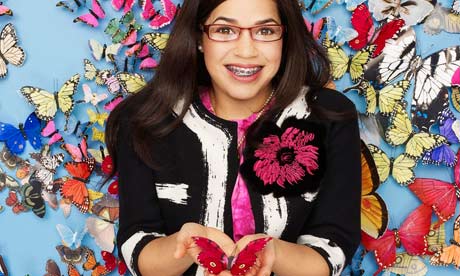 Back in 2006 when skinny jeans were a relatively new concept (I know, don't you feel old?!), ABC released a television show called Ugly Betty that unfortunately, only ran for 4 seasons due to writers strikes and the recession. It is dubbed on the Wikipedia website, a dramedy (dramatic comedy) and tells a fish-out-of-water story of a young fashion magazine assistant. This ticked all the boxes for me and most teenage girls at the time; the combination of fashion and the desire to fit in amongst others, is an all too familiar concept that many teenage girls deal with. But while it proved to be an inspiring watch at 17, it still remains so 6 years later. Often through age, you find that many old things gain new meanings. While a song may have had you dancing around your room at 14, you may find yourself understanding the lyrics and appreciating it more for what it is, at 18. This is what I've found with Ugly Betty.
I watched it at 17 and felt it really spoke to me as I loved fashion and could really relate to the pressures of fitting in, as most teens do. I even went on to study Fashion Buying at University. But at 23, it has brought me new meanings. The idea of following your heart, making big career choices, family and respect are all issues that are dealt with in this television show that I completely by-passed as a teen. This show has inspired me, both in fashion and life. It's truly good for the heart and soul. It's made me appreciate my family so much more, be thankful for what I have, work harder to follow my dream and strangely enough, be less angry at things. It was one of the things that inspired me to start this new blog. In one season, Betty starts a blog and she writes about what is important to her. She works for a fashion magazine and although she enjoys it, she finds it hard to work in an environment that is so superficial. It has an array of guest stars including Adele, Lindsay Lohan, Gene Simmons and Victoria Beckham, and celebrities who you've seen elsewhere but don't know the name of like Max Greenfield (Schmidt from New Girl). What I really love is that the actors are truly devoted to the show and the message it conveys. They want to tell their viewers to be themselves, love one another, appreciate everything in life and to be strong when times are dark.
Watching this has truly inspired me in so many ways and has taught me a lot. It's fun and uplifting to watch (
Amanda
or 'Quinn' from How I Met Your Mother is stupidly hilarious, her lack of intelligence makes for a good watch) but it's also got a lot of substance and meaning to it as well. It's almost been like a Bible to me, as of late and it's such a shame it was cancelled. For anyone else who was/is a big fan like myself, I think we can agree that the most iconic part of this television series was the ending because it symbolised change, growth and much like this blog; re-birth. I'm a strong believer that you can find inspiration in almost anything, whether it be on TV or from a friend. Ugly Betty will always hold a special place in my heart.